PROJECT TO 2050
「Toward the realization of carbon neutrality in 2050」
GIGA Group's approach policy
Since the start of FIT, we have been working toward the development of new technologies, the construction of systems, and the stable operation of power plants, with the aim of expanding the spread of renewable energy, especially solar power plants.
However, in the future, we believe that it is necessary to accelerate further efforts toward the realization of carbon neutrality in 2050.
Under such circumstances, we, Giga Group, will make active efforts to play a social role by utilizing the technology and experience we have cultivated so far.

Originally, the greatest strength of photovoltaic power generation systems is that they can generate electricity even in places where there is no grid power supply.
Unfortunately, in reality, grid power is required to power up converter, and because it is a power plant that depends on the weather, it was an incomplete power source that cannot be expected as a stable power supply.
However, due to the recent movement toward the rapid spread of electric vehicles, electric bicycles, electric bikes, etc., the storage battery technology has been improved and the cost has been reduced, and it has become possible to completely off-grid photovoltaic power generation system.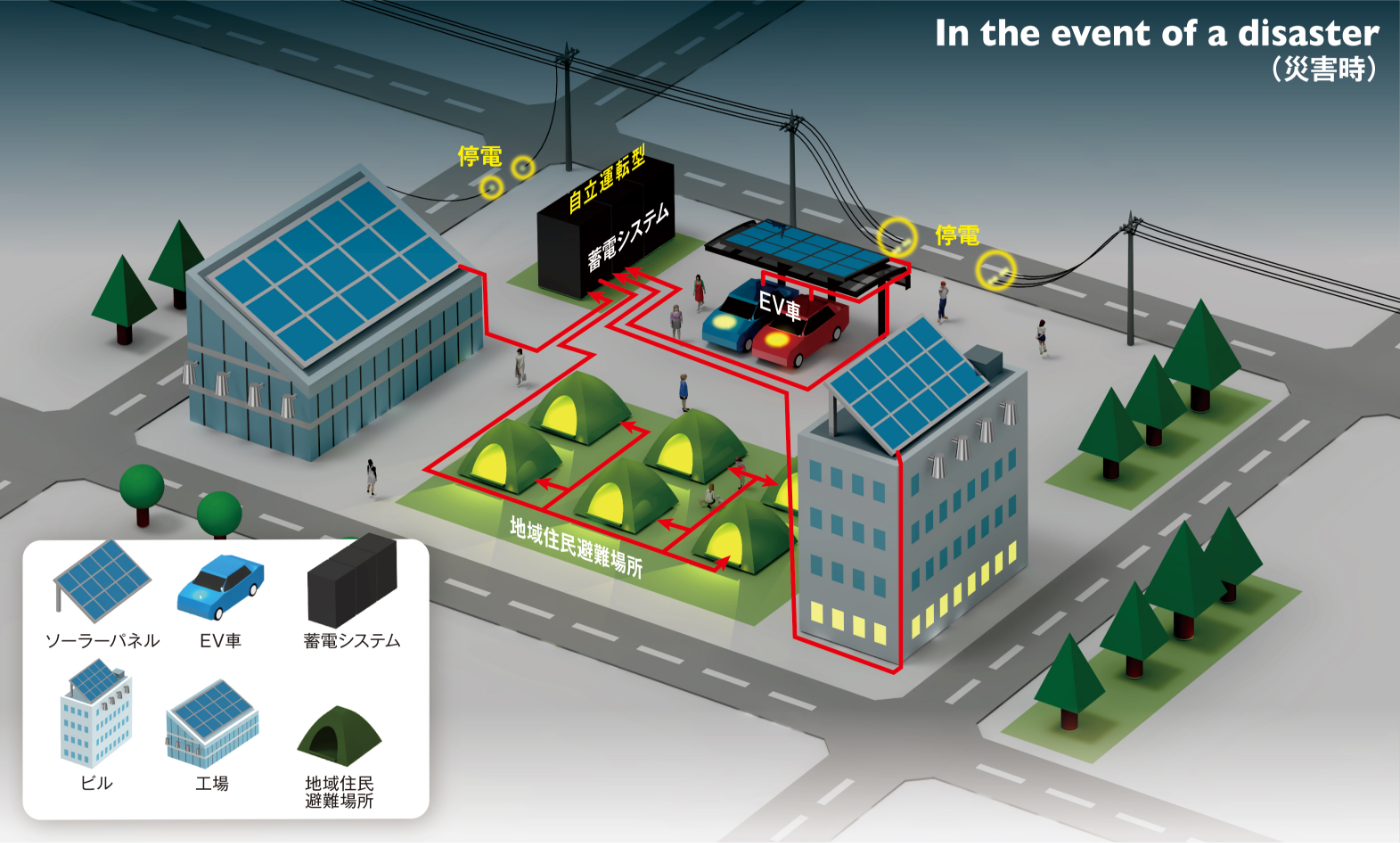 The basic regional decentralized small self-consumption model that we envision is as shown in Fig. 1. This self-generated energy is normally used by the company itself, but in the event of disaster, the neighbors can use it by being provided the minimum required electric power, and it contributes to the maintenance of local security. This model exactly can contribute to the environment and society at the same time.
In addition, such a mechanism can be applied in various industries and regions, contributes to the installation of radio towers in forests where there is no power at all, and is widely used as a temporary power source for construction sites and event venues. Is possible.
We, Giga Group, have set themes for these efforts at each company and will continue to work toward the realization of carbon neutrality in 2050.

New popular model development
We aim to build a system for a small self-consumption model that is distributed in the region toward the elimination of FIT.

With the drastic reduction in the installation cost of solar power plants and the acceleration of the spread of power storage systems, the self-consumption model, which was difficult to realize, has become a reality. However, it is also true that there are still various problems toward the spread and expansion of the self-consumption model. We will aim to build a minimum and optimized system according to each application so that the introduction of this small self-consumption model will progress in various industries.

Active approach to energy mix
Utilizing the technology and experience cultivated in the design, construction, and management of large-scale solar, we will promote the conversion of technology to roof top models, parking lot models, etc., and establish safe, secure, and low-cost construction technology.

Unlike mega-solar construction, which needs large amount of heavy machinery and human resources to a vast land, the regional decentralized small self-consumption model is a way which work is carried out in a site with a limited area and movement of people. We think it is necessary to review the fundamental construction method we have been using.

Under such circumstances, we will work on the development of a new construction system, including the utilization of the UNIT KOUHO that we have been working on.

Tangible innovation
GIGA Machinery have been working on the safety increase and cost reduction of large-scale solar construction and management by utilizing radio-controlled heavy machinery manufactured by MDB. In the future, we will build ways to utilize various radio-controlled heavy machinery manufactured by MDB in order to be involved in a part of contribution to the environment in various industries such as forestry, steelmaking, and manufacturing.
We will also actively work with MDB toward EV conversion and automation of radio-controlled heavy machinery, aiming for zero carbon dioxide emissions from machine operation.

Challenge to the Middle East popular model
In the Middle East, where advocates departure from dependence on oil, aiming to spread and expand renewable energy, we have been working on measures to introduce screw piling method toward instead of concreate foundation method and create new design toward sand problems in order to reduce the environmental load in power plant construction.
With the global EV trend more in the future, new efforts to introduce clean renewable energy are required.

Currently, government-led big projects are the mainstream in the Middle East, and bidding is extremely cost-competitive. In such a situation,
renewable energy does not spread autonomously, and it cannot be said that it is a sound situation.
Therefore, GIGA Solar Dubai has utilized the Power Purchase Agreement method, which is beneficial to both electricity consumers and investors.
We will focus on private projects in the UAE and Saudi Arabia to promote autonomous renewable energy.

*Power Purchase Agreement A power purchase agreement,
usually called roof rent mode in Japan, is that third parties (Investors) invest money to install solar panels on the factory's roof.
Investors supply generated electricity to consumers (Factories and so on) with cheaper than grid.
Electricity price is decided to take costs of installing into consideration and target IRR for investors.
Consumers (Factories and so on) will receive entire installed solar systems after certain period time.