Company Information
List of Alliance Partner Companies
Gigasolar is a joint venture group dealing with large-scale projects for solar power plant construction.
Gigasolar is a all-round producing company which oversees joint ventures for technological development and construction of renewable energy plants. Our biggest strength lies in the level of alliance partners and alliance manufacturers in huge projects related to solar power plant construction. We mobilize the wisdom of a number of expert companies suitable for carrying out large-scale Gigasolar projects.
Excellent companies in various fields work in our backbone operations such as finance, security, warranty, tax matters as well as construction, site management, system manufacturers, and sales of construction materials and O&M. We offer projects for solar power plants with highoutput, highefficiency and high profitability which only Gigasolar can accomplish like no other.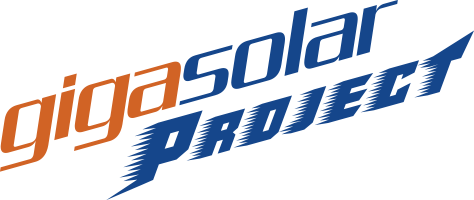 Taking advantage of comprehensive
strength of Gigasolar,

we will propose the most modern
large-scale power plant project for you!
Alliance Partner Companies
Land

Supplier

Sale of construction materials

Construction

Operation and Maintanance

Security

Warranty

Tax matters

Message from CEO
MESSAGE
The state-of-the-art power plant is always the best one.
"We'll do what nobody can do"

This is our strength.
Power plants in Ishikari City can withstand snow accumulated two-meter high.
Power plants in Ishigaki Island are not destroyed by a typhoon with a maximum wind velocity is over 70 meters second.
Solar power plants need the designs suitable for climate, natural features and geographical features of each location.
The buildings constructed by us don't share exact same one and they have introduced unconventional technology and methods.
In order to supply more power at safe and low cost.
The state-of-the-art power plant is always the best one.

Beginning is 2012. Due to the Act on Special Measures Concerning Procurement of Electricity from Renewable Energy Sources by Electricity Utilities, it has become compulsory to purchase all electric power generated by sunlight, wind power, geothermal power and so on.
Energy will be changed and can change.
We launched a new business of constructing MW plants since we have involved in solar power business.
We set a project by getting approval from the companies specialized in civil engineering, construction, staff members, and finance. Without professional technology, we cannot make high-quality buildings.
In 2014, We established GIGA Solar Co.,Ltd.
Our mission is to realize a new energy society that will last forever.
When you're in trouble, contact Giga Solar.
Solar power is a new industry
There is no still such as "how to make MW plants correctly"
"10 different types of power plants can be made when 10 companies try to make it. "Our industry is such an industry of trial and error.

Giga solar has been offering innovative technology to the world: new design concepts, construction methods, heavy industrial machinery, operation and management methods, etc.
Inspirations and designs backed up extensive construction experience 'UNIT KOHO'- which reduces labor costs. Heavy industrial machinery for its realization. Competence for coordinating partner companies in different industries.
We have jointly developed tracking frame to generate more electricity in small areas, and also have enabled epoch-making plan which constructs power plants in snowy areas for nearly the same cost as Kanto area.

'If we are in trouble, we take counsel with Giga solar' Without our noticing, now get such a voice.
Our promise with customers.
Our beliefs are not just technology.
"A completed building is not our goal but our beginning. Construction isn't the end for us.

The demand for generating more power by running power plants for more than 20 years is increasing. In these circumstances, it is necessary to provide support after operation begins. Monitoring amount of power, regular inspection and respond to an emergency

However, our thought is "not defensive maintenance but offensive maintenance." It is said that "power plants deteriorate and produce a steadily decreasing amount of electricity year after year."

In this situation, we are working not only to prevent deterioration but also to increase the total amount of electricity.
When we find a matter of electricity loss, we will solve it immediately.
After new technology is developed, we will utilize it for running power plants.
"While cutting costs, maximize our customers' profit margin." We think this is manufacturing companies' promise.

Giga solar is not just company involved in solar power plants. Our company generates renewable energy and makes world happy. Energy is not fluid, but always in demand. Now, we are mainly pursuing possibility of solar power plants, getting information from Europe, which are energy developed countries, and also searching for new generating electricity methods.
World we aim.
Building construction and technical cooperation expand not only in Japan, but also in overseas including Southeast Asia.
Cambodia purchases a lot of electricity from neighboring countries because it is poor in energy resources, however stable supply of electricity is necessary to develop domestic industries.

When I visited Phnom Penh, I was astonished to see the darkness in the town at dusk.
"The electricity comes to the town but no light was turned on, how come?"
"Ordinary families cannot afford to purchase electricity, even in big house, everybody spends for long night by getting together under only one miniature light bulb…" I was explained like that. While I was listening to the story, I got a lump in my throat.

If we can support construction of power plants for renewable energy there, light brilliantly in Phnom Penh and all family spend in the bright room.
That's the world what Giga solar might aim.

"I'll doing what everybody can't do"
We will continung on making the best power plant.
Representative DirectorKatsunobu Aoki
About Us
Company Profile
Name of the Company
Gigasolar Co., LTD.
Representative
President Katsunobu Aoki (Representative Executive and President of Giga Engineering Co., LTD.
Members of the Board
Chairman Minoru Yamauchi
Senior Managing Director Masahiro Yahagi
Auditor Tsukasa Aoki
Established
April 2014
Capital
10 million yen
Location
Palazzo Girasole 7F, 2-9-2, Higashi-Shimbashi, Minato-ku, Tokyo 105-0021, Japan
Tel
+81-3-6435-9378
E-mail
info@gigasolar.co.jp
Main banks
Yokohama Bank, Sawayaka Shinkin Bank
Operations
Design, constructioninstallations, construction management, and sales of solar power generation technology for the industrial use
Sales areas
Nationwide
Introduction of a Related Company
About Giga Engineering
| | |
| --- | --- |
| Company Name | Giga Engineering Co., Ltd. |
| Location | Palazzo Girasole 6F, 2-9-2, Higashi-Shimbashi, Minato-ku, Tokyo 105-0021, Japan |
| Tel | +81-3-6435-6295 |
| E-mail | info@gigaengineering.co.jp |
| Operations | Construction, maintenance inspection, and maintenance services |
| Capital | 50 million yen (100% capital invested by Gigasolar, Co., Ltd. |
| Authorization Number for the Construction Industry | 83330(TOKU-29) authorized by the governor of Kanagawa Prefecture |